BECOME AN ADVOCATE!
---
We are getting ready for the event of the year, and we need YOU to help POWER THE MOMENTUM!
Bryant Giving Day is designed to make it super simple to build support for what you care about.
So, let's get everyone in your network ready to give!
Once you have found an area to support, click the advocate button on their page to become an advocate for that area!
Being an Advocate is as easy as...
2
Create Your Advocate Page
Use your Fundraiser Dashboard to customize your personal page with images, text, and/or video.
3
Tell Your Story
Share your personal page with your network to promote Bryant Giving Day and use the Advocate Toolkit
to help you.
4
Spread the Word & WIN PRIZES!
Each donor an advocate secures under their personal page will equal one entry to win cool prizes!
Advocate FAQs
How do I become an Advocate?
Is there one area of campus you are most passionate about? Find your project here and become an advocate specifically for them and help spread the word. Just visit the project's page and click "Advocate" to get started. 
What link do I share?
You'll want to share the link created for your fundraising page found in your Fundraising Dashboard as pictured below.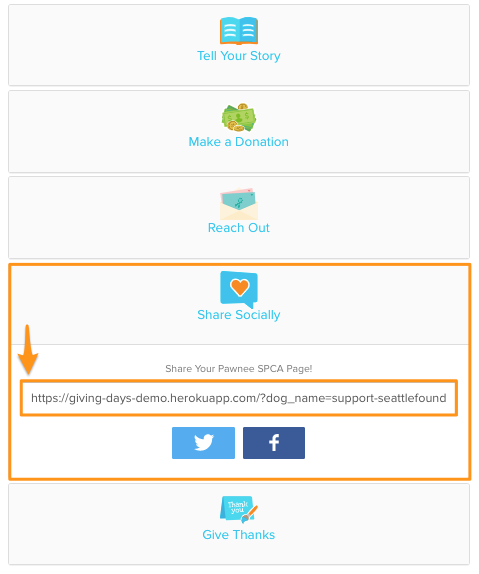 How do I get the word out?
To get the word out about Bryant Giving Day, you'll want to communicate with your contacts through email messages, social media posts, and word of mouth. Check out the Advocate Toolkit and the links below for ideas of what to post and when!
What am I responsible for?
Getting the word out, helping Bryant reach our goals, and having FUN!
You can have a major impact on the success of Bryant Giving Day as a fundraising Advocate if you work hard and spread the word. You'll make the most impact by being creative and having as much fun as possible by sharing your fundraiser with everyone you know!